A safe and comfortable sleeping environment for an infant encourages healthy development, restful sleep, and minimizes the risk of sleep-related injury. This article outlines evidence-based solutions that offer the best safe sleep practices for babies to have a peaceful rest while parents enjoy peace of mind. 
Creating a Safe Sleep Environment
The best safe sleep environment for a baby includes an appropriate crib setup, correct bedding choices, and ideal room conditions. When caregivers practice these basics, a baby's slumber will be more comfy with less risk.
Choose a Suitable Infant Crib and Mattress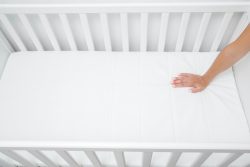 Prioritize safety and durability when selecting a crib for your infant. Choose cribs that meet the current safety standards and regulations, such as those approved by the Juvenile Products Manufacturers Association (JPMA). Federal standards for cribs sold in the U.S. today must include well-designed and sturdy slats that are spaced appropriately, reducing the opportunity for a baby to wiggle through and get trapped. There are no cutouts in the headboard or footboard and no sharp edges or exposed screws. 
While some may be attracted to the styling of vintage baby cribs or the affordability of a used one from the 90s, it's best to go with a current version. Cribs made today meet higher standards for safety in every regard, from its structure to non-toxic paint. It's common to find newer cribs for sale online or through a friend network. Reach out to your family and friends and ask if they can help locate one that's been recently manufactured.
Choose a new, firm and snug-fitting mattress that fits securely within the crib frame with no space between mattress and the bed frame structure, reducing the risk of suffocation. New crib mattresses will be free of mold or dust from old biological fluid stains and extended storage. 
Create Optimal Room Temperature for Infant Sleep
The ideal temperature for an infant's safe sleep ranges between 68 to 72 degrees Fahrenheit (20 to 22 degrees Celsius). Avoid overheating the room, as excessive heat increases the risk of Sudden Infant Death Syndrome (SIDS). 
Select Appropriate Bedding and Avoid Hazards
Follow these guidelines and choose bedding that minimizes the risk of suffocation and strangulation:
●      Avoid loose bedding: Do not use loose sheets, quilts, comforters, or blankets for warmth. These items can cover your baby's face and obstruct breathing. Dress the infant in safe clothing designed for sleeping, not playing. Wearable blankets or sleep sacks are designed to keep your little one warm without the risk of suffocation. 
●      Say NO to toys and other decor: Keep stuffed animals, decorative pillows, plush toys, ribbons, cords, decorations, and other soft objects out of the crib. These items pose a suffocation hazard and should be placed in a separate area of the room.
●      Skip crib bumpers or bumper pads: Contrary to a popular myth, crib bumpers or bumper pads do not prevent injuries and can increase the risk of suffocation, entrapment, and SIDS. Those items may be cute and colorful, but you should delete the pads and have a bare crib environment for baby's safety.
Positioning an Infant for Safe Sleeping
Caregivers should follow recommended sleep positions to best align a baby's spinal structure and reduce the risk of sleep-related incidents.  
Back is Best: Lay Baby on Their Back for Sleeping
The American Academy of Pediatrics (AAP) recommends placing infants on their backs for sleep. This supine position significantly reduces the risk of SIDS. When laying your baby down to sleep, position them on their back, ensuring their face and nose are clear and unobstructed. Train family members and caregivers and require them to follow this practice consistently.
Tummy Time: Promoting Development During Awake Hours
While back sleeping is recommended for sleep, it's equally important to provide ample tummy time during awake hours. Parents can enjoy this bonding time with their baby and watch their development while it strengthens the baby's neck and upper body muscles. A strong upper body helps them move their head to a more comfortable and safe position when sleeping. Provide short periods of supervised tummy time throughout the day when your baby is awake and alert.
Side Sleeping: Not for Infants Under 12 months
Side sleeping is not a safe sleep position for infants younger than 12 months and increases their risk of SIDS. If you need to lay them on their side and gently pat their back to help become more sleepy, you should roll them on their back when they fall asleep. 
Car Seats: Not for Prolonged Sleeping
The American Academy of Pediatrics recommends against routine sleeping in sitting devices for infants, including car seats, bouncy seats, hammock rests, automatic rockers, and other devices. These devices are not safe for long naps or overnight sleeping. Sleeping in an inclined seat can result in chin-to-chest posture. This is called positional asphyxia and occurs when the child's head and neck are positioned to block their airway, causing suffocation. Remove the baby after they fall asleep and place in an approved crib or playpen cleared of all items. Be sure to position a sleeping infant in a car seat where they are not slumped over. On long car trips, stop for breaks and remove the infant to stretch and take a break. 
Developing Infant Sleep Habits and Routines
Establishing healthy sleep habits and routines for a newborn is fundamental so that both infants and parents can have restful nights. 
The Power of Consistency: Establishing a Bedtime Routine
A consistent bedtime routine helps signal to your baby that it's time to wind down and prepare for sleep. Over time, this learned behavior and rhythm becomes accepted. Routines should be soothing with relaxing activities such as a warm bath, low light, gentle massage, quiet reading, or lullabies. Aim for a consistent, peaceful bedtime each night, allowing your baby to establish a predictable sleep pattern. 
Calming Activities and Soothing Techniques
Introduce calming activities and soothing techniques to help your baby relax before sleep. Experiment with gentle rocking, swaddling, white noise machines, or soft music to create a tranquil environment. Each baby is unique, so observe and adjust the methods that work best for your little one.
Nurturing Healthy Sleep Associations
Encourage healthy sleep associations when creating a peaceful sleep environment. Dim the lights in the room, adjust a comfortable room temperature, and use a crib mobile or a soft night light for a soothing ambiance. Over time, your baby will associate these cues with sleep, making bedtime a more pleasant experience.
Sharing a Bed with Family Members
The American Academy of Pediatrics recommends against bed-sharing with infants. Bed-sharing increases the risk of suffocation, entrapment, and SIDS. Unfortunately, there have been too many instances of tragic sleep injury as a result of bed sharing. Instead, create a safe sleep environment for your baby in their own crib or bassinet within close proximity to your bed.
Top Misconceptions About Safe Sleeping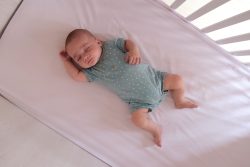 Despite the abundant amount of safe infant sleeping information, myths and misconceptions are still prevalent, leading to confusion among caregivers and potential harm. It's important that parents have accurate information to make informed decisions and remember the top tips for safe sleeping.
#1: Say No to Soft Bedding
Soft bedding such as sheets and blankets do not enhance your baby's comfort during sleep. In fact, these items increase the risk of suffocation and entanglement, and pose a significant hazard. Opt for a firm mattress, snug-fitting sheets, and a specially designed infant wearable blanket to provide both safety and comfort.
#2: Say No to Soft Toys and Decor
While it may seem adorable to tuck stuffed animals and colorful pillows around your baby during sleep, they pose significant risks. Soft toys can obstruct your baby's airway and pillows can create a wedge between a baby's mouth and the crib corners. Keep the sleep environment completely free from such objects to ensure a safe sleep space.
#3: Say NO to Crib Bumper Pads
Crib bumpers or bumper pads are often marketed as protective measures to prevent injury. However, studies have shown that these products increase the risk of suffocation, strangulation, and entrapment. Do not use crib bumpers or bumper pads in your baby's crib.
Educating Caregivers and Family Members
Creating a safe sleep environment for infants requires caregivers and family members get onboard with education. This includes grandparents, childcare providers, and other family members who may have raised their children differently, under different methods and ideas from past generations.
Spreading the Knowledge
All your baby's caregivers need this information to ensure your baby's safety. Share the guidelines for safe sleep by sending them a link to this article, other online resources, pamphlets, or brochures you receive from your pediatrician. It's important for your baby's safety that you have confidence everyone is following the same rules for safe sleeping.
Communicating with Caregivers
It may feel awkward educating people like daycare workers who are supposed to be informed, or family members who have raised their own children. Don't hesitate to openly communicate the newest safe sleep guidelines with all individuals caring for your baby. Share with them that guidelines have been updated based on research and medical recommendations. Encourage them to chat with you and have regular discussions to address any questions or concerns they may have.
Contact Us With Any Questions
Metro Pediatrics is your trusted resource for newborn care and we are happy to answer any health concerns you may have. Our providers will gladly talk with you about healthy habits and safe environments for your newborn! Call us today to schedule a new family Meet & Greet for expectant parents, or a new appointment for your infant as your primary care pediatrician.