Tips to Help Your Child (& Yourself) Beat the Winter Blues
The Pacific Northwest is known for its many amazing qualities: the outdoors, mountain snow, beautiful coasts, and miles and miles of forests. It is also famous for its rainy, cold, and grey winter. So it's no surprise that when the winter months bring us indoors, we see an increase in reports of depressed mood.
So short of moving to a sunnier spot, can anything be done to help beat the "winter blues"? Yes! It's called Behavioral Activation.
How Behavioral Activation Works
We know that disengaging from our routines and withdrawing from our environment makes depressed mood worse. The opposite is also true. Increasing our access to things that reward us helps us to feel better.
By following the easy acronym BASE, you can help beat the winter blues.
B

ody care

How have you taken care of your body today? Exercise, sleep, eat well, and drink water.
A

ccomplish

What goal have you accomplished for the day? Keep it simple. Goals can be related to homework, something you've been wanting to do around the house, etc.
S

ocial

Have you connected with others today? Have a family meal or spend time with friends.
E

njoy

Do something that you enjoy each day. Take time to have fun, laugh, and smile.
Try It!
We created an easy-to-use worksheet that encourages patients and families to track and plan activities that help to improve mood. Click on the image below to download and use this worksheet at home!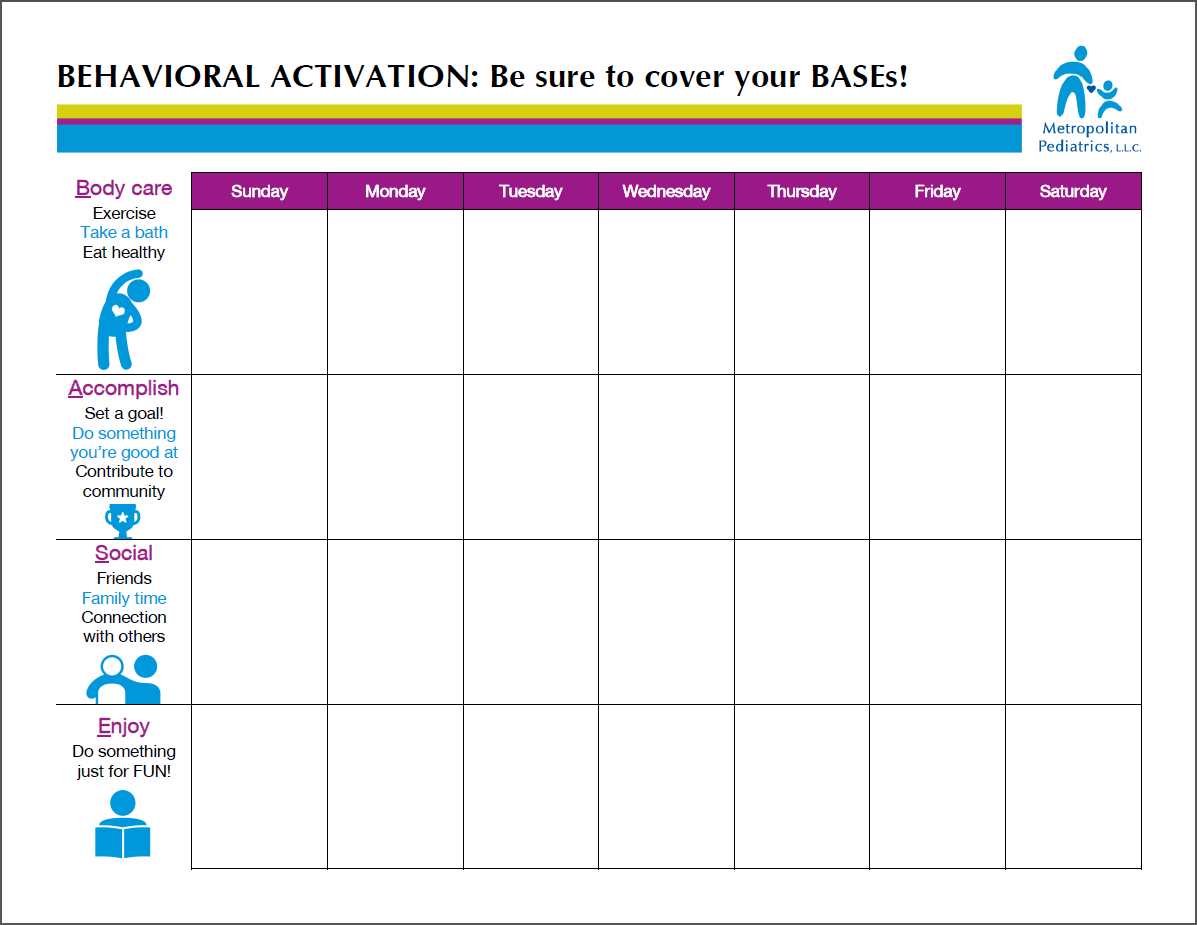 We know it's tough to get back to doing these things when you are feeling tired, unmotivated, and down. Here are some ways parents can help their children and teens:
Track your BASEs too!
Model behavioral activation and positive thinking.
Reward your child or teen for scheduling and tracking BASEs. Focus on what they are doing, rather than dwelling on what they're not.
Schedule daily connection time with your child.
Take your child/family outside!
If symptoms persist, take your child to a therapist who specializes in evidence-based treatment for pediatric depression. The best treatment for depression in children and teens is Cognitive Behavioral Therapy (CBT), the first part of which is Behavioral Activation!
Talk to your pediatrician about whether or not your child may benefit from a medical intervention for depression.
This winter, make sure to cover your BASEs!
More than Winter Blues
If your child is experiencing one or more of the following symptoms persistently, it may be more than winter blues. Please contact your pediatrician for an appointment, so we can help!
Frequent sadness, tearfulness, crying
Decreased interest in activities, or inability to enjoy previously favorite activities
Hopelessness
Persistent boredom; low energy
Social isolation; poor communication
Low self-esteem and guilt
Extreme sensitivity to rejection or failure
Increased irritability, anger, or hostility
Difficulty with relationships
Frequent complaints of physical illnesses, such as headaches and stomachaches
Frequent absences from school or poor performance in school
Poor concentration
A major change in eating and/or sleeping patterns
Talk of or efforts to run away from home
Thoughts or expressions of suicide or self-destructive behavior
National Suicide Prevention Lifeline:
1-800-273-TALK (8255)