The American Academy of Pediatrics recommends that infants under 6 months of age are not exposed to direct sunlight. Ensure infants are shielded under deep shade, canopies, overhangs, blankets, or other ways to block harmful UV rays.
Once the summer sun finally makes its appearance, bringing with it the warmer weather that people have been longing for during the cold winter months here in Oregon, families start to spend more time outside. However, once the summer months are in full swing, and the hot weather arrives, parents need to monitor the temperature outside, so they can dress their newborn in clothing that they will be comfortable wearing.
Dressing Your Baby in the Summer
While summer is definitely the season of outdoor fun, the heat and humidity that come with it can make babies uncomfortable and fussy.
Although parents are unable to change the weather, they can choose clothes made with natural, breathable fabrics that their baby will be comfortable wearing even on days when the warmer temperatures of summer are on the rise.
Parents can save the day by selecting baby clothes made with a lighter fabric (e.g., a lightweight onesie made of linen). A lighter fabric will keep their little one's body temperature down, ensuring the baby feels cooler and more comfortable, even after extremely warm weather sets in.
Choosing Newborn Clothes for Hot Weather
The key to a successful summer outfit is selecting baby clothing that is comfortable, cool, and friendly to baby's delicate skin. Parents should look for clothing that is made using natural materials, such as organic cotton, bamboo, or linen. These fabrics are gentle enough for baby's soft, tender skin and offer better aeration than synthetic options, which means baby stays cooler, even on the hottest days of summer.
Besides Choosing Breathable Fabrics, Parents Should Also Consider Clothing Style
To keep their baby happy and healthy, parents need to select fabrics that are lightweight with lightly colored designs. Furthermore, the style of clothing matters.
The Best Clothing Styles for Summer
Rompers
Baby shorts
T-shirts
Lightweight onesies
Dresses, especially those with smocks
Footie pajamas made with a lighter fabric
When it Comes to Fabrics, Parents Have a Choice to Make
The clothing, hats, and blankets that protect babies from UV rays are constructed using nanotechnology.
Initially, most of the clothing that offered this protection was made using synthetic materials (e.g., nylon, polyester). Today, textile companies are also using nanotechnology to enhance clothing made with natural fabrics (e.g., organic cotton).
Some parents may be hesitant about using baby clothes that are enhanced using nanotechnology. They should consider purchasing their baby some organic cotton denim clothing to wear outside. When it comes to natural fabric, organic cotton denim offers the best protection from the sun's rays because it is tightly woven.
How to Protect Your Baby From the Sun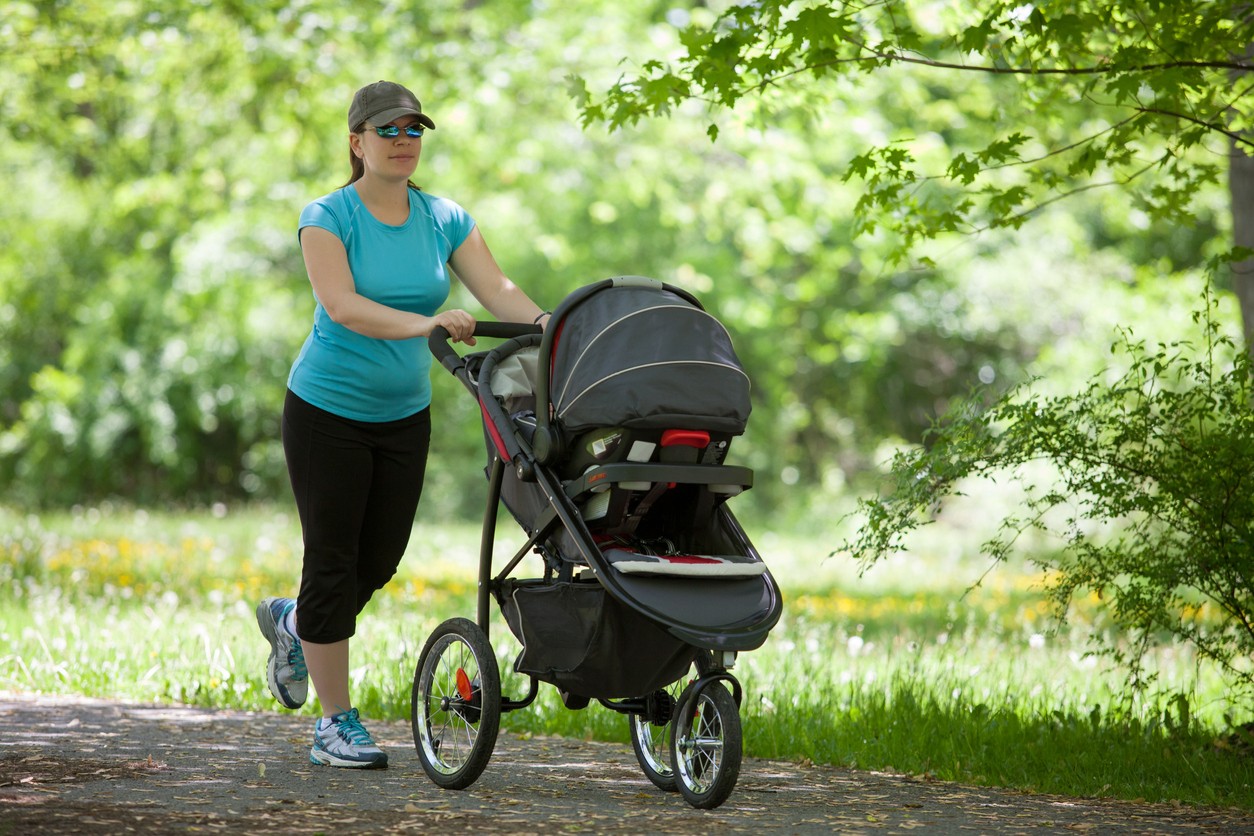 Due to the sensitivity of a baby's skin, they are at an increased risk for experiencing skin irritation from the chemicals in sunscreens. The United States Food and Drug Administration (FDA) and the American Academy of Pediatrics (AAP) recommend that until a baby is at least 6 months old, parents should avoid these products and keep their babies out of direct sunlight. However, if sun exposure cannot be avoided, we recommend using a sunscreen designed for infants and toddlers.
Some Ways Parents Can Prevent Sun Exposure and Keep Their Baby Cool
Cover the baby's stroller with a sunshade or sun protection parasol.
Place the baby underneath a beach umbrella.
Look for an area with natural shade (e.g., beneath a tree).
Use a baby tent while spending time outside.
Cover the baby with a blanket that offers protection from UV rays.
Place a sun hat that is made with material that offers UV protection over baby's head.
Protect his or her eyes with a pair of baby-sized sunglasses that offer UV protection.
Place mesh sun shades over the windows in the back seat of the car.
Dress baby in light clothing made with a natural, breathable material (e.g., linen).
Since babies are unable to regulate their body temperature, they are more likely to become overheated than older children and adults. Therefore, when hot weather arrives, parents need to make sure that their baby's clothes for summer are made from a breathable fabric.
Health Concerns Associated with a Baby Becoming Overheated
Besides making the baby feel uncomfortable and cranky, the heat can also cause the baby to develop a rash. Furthermore, being overheated at night also increases the likelihood of sudden infant death syndrome (SIDS). Whether parents are heading to the beach, visiting the zoo, or just spending time with friends at a barbecue, they need to know how to keep their baby cool and well-protected from UV rays.
How to Determine if Your Baby is Overheated
During the first few months of life, babies have difficulty regulating their body temperature. Furthermore, a baby's sweat glands are not fully functional at birth. Initially, the forehead has the only active eccrine sweat glands, which means that the baby's ability to sweat is compromised. Since sweating is the way that the body cools itself, a baby is at an increased risk for overheating. Therefore, it is essential that parents know the signs that may indicate their baby is too hot.
Check Your Baby's Temperature
When something is irritating a baby, he or she will usually get fussy. Nonetheless, the signs of feeling overheated vary, so, for safety's sake, parents need to keep an eye on their baby's temperature.
The quickest way to check is by placing a hand on the baby's tummy, chest area, or back of the neck.
Common Signs That Indicate a Baby is Overheated
A flushed face.
Rapid breathing.
Skin is hot to the touch, which means that baby's temperature is higher than the parent's own temperature.
An older baby may sweat.
It is vital that parents keep an eye on their baby's body temperature, even if they're not fussy. If the baby becomes overheated and falls asleep, the risk of SIDS increases.
On Cool Summer Evenings, Have Baby Wear an Extra Outfit
After the sun goes down and the temperature begins to fall, before heading outside, parents should have their baby wear an extra layer of clothing. Since the CDC states that babies younger than 2 months of age should not wear mosquito repellent, if the baby's clothes cover their arms and legs, then it will also help protect the baby from mosquitos. Another option parents have to protect their baby from these pests is to cover their baby in a lightweight blanket.
How to Dress Baby in Air Conditioning
One of the general rules that parents follow is dressing their baby with an extra layer of clothing. This additional layer is highly beneficial during the colder months and while spending time in air conditioning. Nevertheless, it is not necessary for the baby to wear another layer of clothing when heading outside during the day. Removing this extra layer is important to prevent the baby from becoming overheated and developing a heat rash.
What is the Ideal Temperature for a Baby's Bedroom?
According to the Sleep Foundation, the ideal temperature for a baby's room varies. Some studies indicate that a baby's room temperature should be between 68° and 72° Fahrenheit, whereas others recommend temperatures ranging from 61° to 72° Fahrenheit.
The American Academy of Pediatrics (AAP) has not made any recommendations; however, studies indicate that parents can decrease the risk of sudden infant death syndrome (SIDS) by keeping their baby's room temperature below 72° Fahrenheit.
In addition, the Sleep Foundation recommends that parents do not give their baby loose blankets to sleep with.
Additional Tips for Parents
1. Check the UV Index Before Heading Outside
The UV Index provides important information about the current safety of the UV rays in a given area. To use this UV Index, parents just need to enter the zip code that coincides with their location.

2. Avoid Spending Time Outside from 10 a.m. to 4 p.m.
Parents and their baby should be mindful about spending time outside between 10 a.m. and 4 p.m. because according to the Environmental Protection Agency (EPA), this is the time of day when the rays from the sun are the strongest.
3. Remember That Water Reflects the Sun's Rays
If spending time at the beach, sitting near a pool, or wading in a lake, parents must keep in mind that the UV rays from the sun reflect off the water. Therefore, even when baby has a hat on, if they are anywhere near the water, the sun can damage their face from the reflection.
4. Keep Baby Well-Hydrated
Just like older children and adults, once summer arrives, babies need to drink more fluids. Parents should ensure that they have plenty of formula or extra breastmilk for the day (or bring mom with). When it is hot outside, a baby should be breastfed every 2 or 3 hours. It is also fine to give some additional water, but do not dilute the formula.
When compared to a typical day, parents who notice a drop in the number of times their baby is urinating need to increase their fluid intake.
Signs of Dehydration That Indicate it is Time to Seek Medical Care
The baby's fontanelle (i.e., the soft spot on top of the baby's head) has sunken in.
Limited urine output, totaling fewer than 6 wet diaper changes over a 24-hour period.
No urine output for 4 hours straight.
Excessive fussiness.
Tearless crying.
Strong-smelling urine.
Urine that is darker than usual.
Extreme sleepiness.
Hands and feet look splotchy and feel cold to the touch.
Dry mucous membranes (e.g., dry lips, dry mouth).
If parents notice that their newborn baby or older baby is exhibiting any of these signs, seeking medical care right away is recommended. Dehydration in the very young (e.g., newborns, older babies, and toddlers) can be fatal.
Parents who have a child that needs same-day medical care for an injury or illness, a well-child check or immunizations can find an experienced pediatrician at Metropolitan Pediatrics. In addition, parents looking for an expert in newborn care should contact Metropolitan Pediatrics today. To find your nearest location, please click here.